Bengaluruans are fundamentally foodies. When you live in a town whose name literally translates to 'Town of Beans' you've got to love food! So when you're in the Garden City and feeling peckish, here's a list of the best local snacks.
Idli Dip Sambhar
Items like idlis and dosas are far too obvious but one exception would be Idli Dip Sambhar, just for being so Bengaluru. Two steaming hot, soft idlis (and sometimes a vada) dunked in a deep flying saucer-like bowl of piping hot, spicy-sweet and soulful sambhar, this may sound almost sadistic, but you haven't really enjoyed idlis until you've drowned them. Where to get it? Idli Dip Sambhar is available practically everywhere in Bengaluru. One of the more 'sambharlicious' places in town is Amruth Vegetarian.
Amruth Vegetarian, Nahar Heritage Hotel, 14, St. Marks Road, Bengaluru, India, +91 80 2221 4988
Bisi Bele Bhath
Bisi Bele Bhath literally translates to 'Hot Dal Rice' (the name alone should invoke in you a warmth akin to eating mom's homemade daal chawal). The dish features daal, rice and vegetables blended together like a khichdi, and served with boondi, namkeen or sometimes potato chips. It's soul food at its best. Burping is encouraged. Where to get it? Bisi Bele Bhath is a very common 'rice item', available at most local South Indian joints. If you have to eat it just once, one of the best places is Maiya's.
Maiya's, 119/1, 11th Cross, Ground Floor, Srinidhi Complex, Opposite Venugopal Temple, Sampige Road, Malleshwaram, Bengaluru, India, +91 80 4090 7332
Gobi Manchurian
No, don't call your optician. You read that right. Gobi Manchurian is North India's eternal favorite Gobi-meets-China's legendary Manchurian-style of cuisine in a Hindi-Kannada-Chini-Bhai-Bhai combination that leaves you slightly confused, slightly amused and completely satisfied. These bite-sized snacks are perfectly greasy and spicy, with garlic and green chiles giving it its signature dragon-breath afterburn. Crunch away! Where to get it? Gobi Manchurian is under the 'Chinese' or 'Special Items' menu at most South Indian restaurants. For the crunchiest, spiciest and yummiest Gobi Manchurian, head to RS Shiv Sagar.
RS Shiv Sagar, 5, Narayana Pillai Street, Off Commercial Street, Commercial Street, Bengaluru, India, +91 80 2532 3767
All-Day Breakfast
One advantage of living in a city with a tighter deadline than Cinderella's is that everybody is up for a good breakfast. And breakfast food has become so popular in Bengaluru that there is no shame in eating fried eggs and toast for lunch or a nice breakfast platter at dinner. All-day breakfast joints are growing in popularity all over Bengaluru, with the good-old English breakfast becoming our second favorite Brit after Mr. Bean. Where to get it? Bacon cravings can hit you at any time. Be sure to get your recommended dose of bacon, eggs, ham, sausages, and toast at the Hole In The Wall Cafe.
Hole In The Wall Cafe, #4, 8th Main Road, 4th Block, Koramangala, Bengaluru, India, +91 80 4094 9490
Bun Nippat
Bengaluru is a city of innovators, so naturally, they have they own innovative signature chaat. Bun Nippat is a simple concept, a crisp, deep-fried masala nippat is placed in the warm confines of a fresh bun, along with chopped onions, grated cheese and a secret sauce that cannot be revealed to non-Bengaluruans! Pair this with a bottle of masala coke, and you will be transported to pure chatpata paradise. Where to get it? Bun Nippat stalls are found around college areas because the kids love it. The best bun nippat and masala coke combination are available at Chetty's Corner.
Chetty's Corner, 2, Serpentine Road, Kumara Park West, Seshadripuram, Bengaluru, India, +91 80 2356 6616
Momos
Bring your eyeballs back down from your craniums Delhiites, everyone knows your momos are the best thing since replica lightsabers. However, the Bengaluru momos have really come into their own recently. Bengaluru momos are smaller than those found in the north, the crust softer and the sauces are a lot more front-of-the-tongue spicy than a back. Little morsels of heaven! Where to get it? As tradition dictates, momos are usually found in stalls on the road. Certain stalls in Indiranagar, Koramangala, and Whitefield are very popular. One of the best non-roadside places for momos is Taste of Tibet.
Taste of Tibet, 2nd Floor, Indo Dubai Plaza, Rest House Road, Off Brigade Road, Brigade Road, Bengaluru, India, +91 80 4147 8237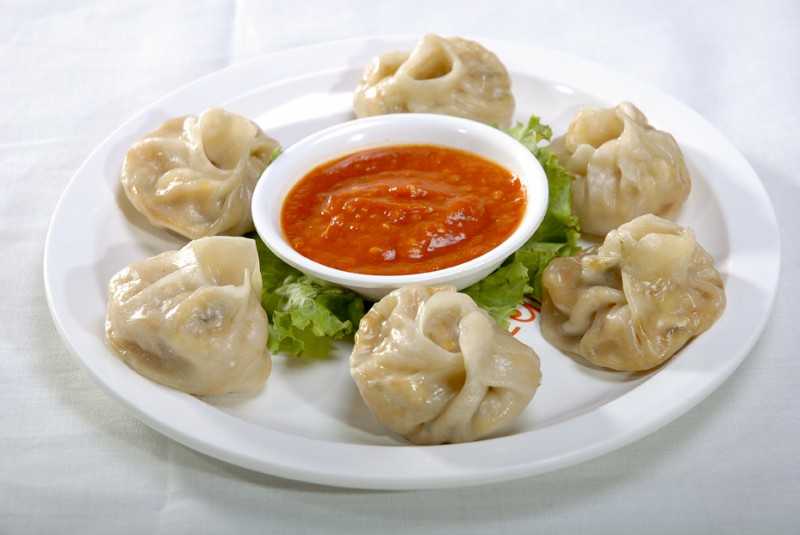 Steaks
While their occurrence in most other major Indian cities is quite rare (most obvious pun ever), the Bengaluru steakhouse business has been going from strength to strength. Karnataka state allows the slaughter of bulls above the age of 12, or the import and serving of cow beef. Most steakhouses are of top quality and serve the choicest cuts, but very few of them get their rare and medium rare right. But then again, most steak lovers here don't care. Where to get it? Most of the central areas of Bengaluru have excellent steakhouses, most of them serving alcohol to make for a complete steak meal. The one place that very slightly edges out all the others is Millers 46.
Millers 46, 46 Millers Road, Vasanthnagar, Bengaluru, India, +91 80 4114 8022
Craft Burgers
It just gets better and better for meat lovers in Bengaluru, thanks to the booming craft burger scene in the city. Miles ahead of fast-food burgers in every possible way (other than affordability), these handcrafted burgers (patties are made of beef ground in the kitchens) are being vociferously demanded. The variety of styles, ingredients and tastes available are amazing, and there's no way that just one burger can sum up your experience. Too bad one such burger is enough to fill most stomachs. Where to get it? There are too many extraordinary burger joints to try out, but winning it in terms of overall restaurant concept is Smally's Resto Cafe.
Smally's Resto Cafe, LG09, Sky Walk, Near Body Craft, 1, Assaye Rd, 5th Block, Sindhi Colony, Pulikeshi Nagar, Bengaluru, India, +91 80 4965 3459
Gourmet Pizzas
When Bengaluruans want a slice of heaven (aka pizza), a chain joint like Domino's is the absolute last resort. Bengaluru is now home to several delicious gourmet pizza restaurants that cater to diners' need for posh and cheap, simultaneously. From the wood-fired goodness of Toit to Bakester's uniquely desi-classy Indian-topping pizzas, the average pizza lover has plenty to choose from and plenty to drool over. Where to get it? The aforementioned Toit is not just famous for its smokey-flavored pies. This impossible-to-get-a-table place is also renowned for its craft beer microbrewery. Check out Toit Brewpub.
Toit Brewpub, 298, 100 Ft Rd, Indira Nagar II Stage, Bengaluru, India, +91 901 971 3388
Cold Stone Ice Cream
And let's not forget dessert. The biggest sweet-tooth cravings in recent times is for cold stone ice creams. When you order, you are encouraged to watch as the ice cream craftsman places your ice cream on a slab of cold stone and pounds, smashes and mixes away until it turns into a smooth-textured and beautifully mixed ice cream sundae, served in a waffle bowl. The only problem: you can't talk with your mouth full. Where to get it? Stoner is a chain that has brought this innovative concept to Bengaluru, and it has really caught on! Find it at Stoner.
Stoner, 50, Zatakia Centre, 100 Feet Road, Indranagar, Indiranagar, Bengaluru, India, +91 80 4131 2123