10 Monsoon Getaways Near Bangalore For A Scenic Escape
1. Savandurga Hills, Bangalore – Family & friends kinda place!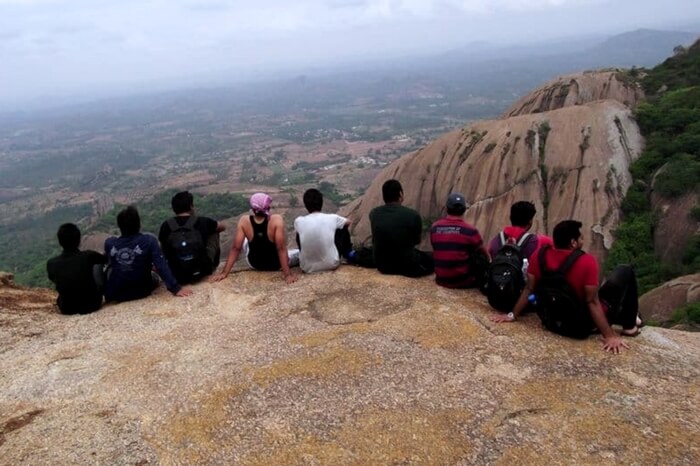 At 1226 m, Savandurga Hills is the largest monolithic hills in Asia. A perfect offbeat weekend getaway near Bangalore in June, this is an ideal place to beat the heat and relax in a comparatively cooler destination. The hills are suitable for professionals caught up with their busy lives and yearn for a thrilling outing towards the weekend.
Savandurga Hills offer magnificent panoramic views of beautiful nature from the top. Plan a trip here to explore the vast nature around and try adventures like rock climbing. The smooth hill slopes in Savandurga are ideal for trekking and can be covered even by rookie trekkers in a span of two days.
Distance: 70 km to the east of Bangalore
2. Shivanasamudra Falls, Mandya – The cascading wonder!
Waterfalls are such a pleasant sight after it rains crazy and water comes gushing down the mountain. Recommended as one of the most popular weekend getaways from Bangalore in monsoon, Shiva Samudram translates to Shiva's Sea. The waterfalls on Kaveri river bifurcate into two streams creating a small island in between. Gaganachukki is the western, while Bharachukki is the name of the eastern stream.
Cascading from a height of 200 feet, the waterfall discharges as much as 6.6 million cubic feet of water per second on an average day during monsoon. With such strong force and so much water, the falls are a perfect watch. However, it turns violent during peak monsoon and hence swimming or other water activities are not advisable here.
Distance: 130 km to the southwest of Bangalore
3. Horsley Hills, Chittoor – A hamlet in the clouds!
4000 feet into the rich vegetative environs of Andhra Pradesh is Horsley Hills – one of the perfect monsoon getaways from Bangalore that lies tucked in hills surrounded by magnificent nature. The hills dotted with coniferous trees, have the temperature ranging from 25-30 degrees during monsoon, thus making conditions ideal for a family outing or a casual weekend trip with friends. Madanapalle is the closest town to Horsley Hills.
Distance: 144 km to the northeast of Bangalore
4. Brindavan Gardens, Mandya – Dancing colors, elevated spirits!
The prime attraction of Mysore and a regular weekend getaway from Bangalore, Brindavan Garden is located by the Krishnarajasagar Dam in Mandya district. The dam is an engineering marvel with symmetrical designs and terrace gardens.
Brindavan Garden Light Show is the major highlight here. Post sunset, the fountains are illuminated. As the water starts dancing to the beat of the music, it presents a mesmerizing spectacle to the onlookers.
Timings: 6 am – 8 pm, all days
Distance: 150 km southwest of Bangalore
5. Nisargadhama Islands, Kodagu – Island therapy near Bangalore
Boasting of a forest resort and other cozy stay options, Nisargadhama is a popular monsoon getaway from Bangalore. It has ample of nature's charm and diverse flora and fauna inside the island area. Also, there are plenty of tourist attractions located right beside the Mysore-Madikeri Highway, towards Madikeri. The island can be easily accessed by walking past the hanging bridges along the Cauvery river.
Distance: 227 km to the southwest of Bangalore
6. Chikmagalur, Chikkamagaluru – Estate of greenery and liveliness!
Chikmagalur being one of the popular monsoon getaways near Bangalore opens up a heaven for travelers during monsoon. Located in the Mullayanagiri Range in the South Western Karnataka, the hills are strategically located thus becoming a popular weekend getaway from Bangalore and Mangalore.
The land of temples, waterfalls, lakes, and hills also has some awe-inspiring tea and coffee estates. A trekker's paradise in the south, Chikmagalur perfectly feeds the adventure enthusiast in you by offering activities like mountain biking and road biking.
Distance: 242 km to the west of Bangalore
7. Chembra Peak, Wayanad – To the heavenly abode
A popular trekking destination in South India, Chembra is an important attraction in Wayanad known for its sheer beauty and pristine setup. Chembra becomes an ideal option for a weekend getaway during the rainy season. At 2100 m above the sea, it offers a landscape view of the mountains and the charming nature around. If you are in a mood for a trek, you can always choose from one day or two-day treks.
Chembra also happens to be one of the premier honeymoon destinations in India in the monsoon that provides romantic couple enough private moments as compared to the restless city life.
Distance: 313 km to the southwest of Bangalore
8. Kudremukh National Park, Chikkamagaluru – A secluded wonder in the west!
Known for its vast and popular mountain range in the Chikkamagaluru district in Karnataka, the Kudremukh National Park is rightly your next weekend getaway from Bangalore in July. Plenty of treks and diverse ecology of the national park makes it a must-visit haven in South India. Boasting of cozy resorts, comfortable stays, and lengthy walking trails, the national park region is well suited for leisurely strolls with your loved ones.
The confluence of rivers and waterfalls around make a perfect vista for everyone visiting the national park region!
Distance: 331 km to the west of Bangalore
9. Agumbe, Shimoga – One of the best-kept secrets of Karnataka
A hidden gem of Karnataka, Agumbe in Shimoga district of Karnataka can be counted among ideal weekend getaways from Bangalore. Walk across one of the largest continuous forest stretches in India, and explore the off beaten tracks into the wild. The place has exciting trails and unbelievable escapades to offer that would make your trip worthwhile.
Located atop Someshwara Ghats, Shimoga is also known for a rich reserve of medicinal plants, rich biodiversity, lowland forests, and numerous waterfalls that come alive mostly during monsoon. Trek down to one of the waterfalls and embrace the wilderness in Agumbe – the famous town in the Malgudi Days series from R.K Narayan!
Distance: 355 km to the west of Bangalore
10. Jog Falls, Shimoga – Your majesty!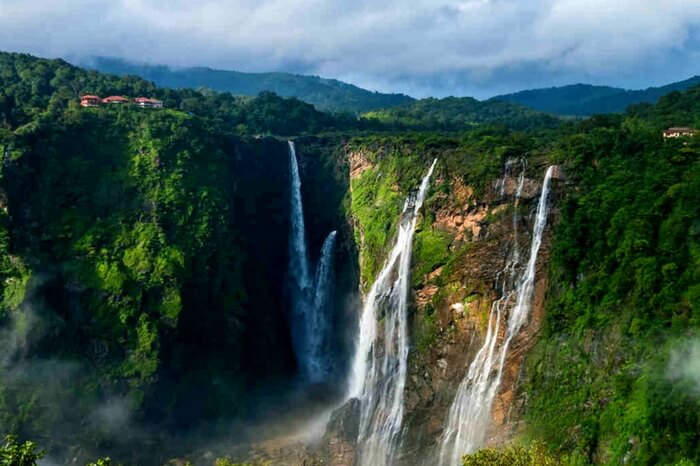 One of the most awe-inspiring sights that you would get to see in Karnataka, Jog Falls is a majestic creation of nature that makes for a perfect pick among monsoon getaways near Bangalore. The second highest fall in India is 253 m high, only less than Nohkalikai Falls in Meghalaya. The views from the top are unbelievable and would leave you spellbound.
Distance: 423 km to the northwest of Bangalore