Bengaluru Dead Slow Speed Breakers Creating Traffic Jams
After a smooth run over the white-topped ring road, commuters on the Hebbal-KR Puram route have to go over three back-breaking bumps
After white-topping, now it's the speed-breakers. Commuters along the Outer Ring Road (ORR) can't seem to catch a break. Three, rather rough and abrupt, speed-breakers (two in the Hebbal-KR Puram route, and one in the opposite direction) are placed near the B Channasandra bridge, and they lead to a traffic pile-up for up to a kilometre during peak hours.
Heavy vehicles such as Volvo buses sometimes try to avoid these by slipping into the service road, which again disrupts the flow of traffic.
Just to put things in perspective: To improve ORR, the Bruhat Bengaluru Mahanagara Palike (BBMP) replaced the conventional tar roads with the white-topped surface. Although this was done only at select stretches, the work turned commute along the ORR into a nightmare as vehicles were regularly stranded in long queues for hours.
After months of delay, the new roads were opened and it turned out to be a dream ride. Traffic seemed to glide along the smooth roads. As this is one of the most-used routes to reach the tech corridors, thousands of techies heaved a sigh of relief – and then the 'deadly' speed-breakers were laid.
NOT THE GARDEN VARIETY
These humps are not the conventional ones used on roads, but the rubberised speed-breakers (50 mm in height) for which vehicles to need come down to a first-gear crawl.
"All our dreams of reaching office/home sooner have been shattered by these speed-breakers. On an average, it delays us by 10-15 minutes," said Sanman Krishnamurthy, a techie who uses this road frequently.
Harish Kumar K, also a techie, said: "I don't understand why you needed a speed-breaker here. So many motorists try to skip these humps by diverting into the service road; this not only leads to jams on the main road but also blocks the service road."
LESSONS FROM THE PAST 
A similar road hump on Tumakuru road (near Yeshwanthpur railway station) would create a kilometre-long traffic jam. Finally, the hump had to be cleared. Even a traffic cop posted near the road said that he and his colleagues were finding it tough to manage the traffic because of the hump. However, the BBMP officials said that they had to place the hump as there was a merging traffic ahead.
Urban expert MN Sreehari called for the immediate removal of the road humps. "As per the directive of the Indian Road Congress, building speed-breakers on road, especially expressways are illegal and also unscientific. Most experiments with speed-breakers in different part of the country have proved that it leads to traffic congestion and also at times grievous injury to motorist. There are other ways – like coming up with a yellow warning line or some kind of traffic control. Countries such as South Korea and Japan have also experimented with laser beam lights and if required that can easily be installed in India. Speed-breakers are obsolete and illegal," he said.
Meanwhile, techies are sending SoS mails to cops to immediately take off the hump.
Gopinath Poornaprajna, former office-bearer of the Outer Ring Road Companies Association, said: "People on the ORR are facing a lot of trouble due to the new speed-breaker and it has impacted the movement of traffic on the IT corridor. We already have a slow-moving traffic, this speed-breaker has further slowed us down. People using the road have written many letters to the authorities to remove this."
WHAT THE RULE SAYS
All road humps are supposed to be built as per the specifications of the Indian Road Congress – ideally, speed-breakers in minor roads and residential areas should have a width of 3.7 m and a height of 0.10 m (to afford a gradual gradient). Speed-breakers should also be painted with alternate black and white bands; also, a definition plate with the words 'SPEED BREAKER' should be placed 40 m ahead of it so that motorists and riders have ample time to slow down.
Even the Union government is discouraging construction of unscientific speed-breakers, which are a major cause of death on the road in India. In 2014, 11,008 people died after falling due to a speed-breaker; and in 2015, 11,084 people lost their lives in speed-breaker related accidents.
Karnataka has a major share in the speed-breaker deaths. In 2014, 1,114 people died due to speed-breakers; the figure in 2015 was 2,310.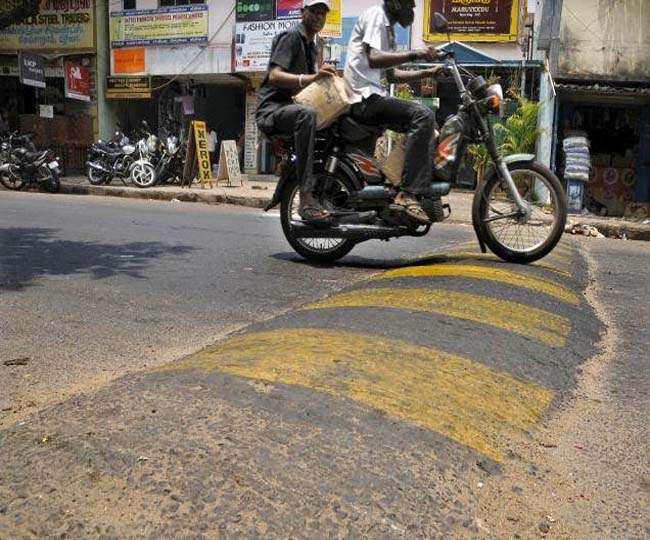 Experts say the rubberised speed-breakers shouldn't be used on roads as they are mostly made to be used on campuses or internal roads. This can be very dangerous, especially at night for two-wheelers as there are no warnings.
Though speed-breakers are not encouraged for highways or major roads such as the ORR, experts still bat for scientific speed-breakers that can safely reduce the speed. Such speed-breakers require enough warning ahead of them so that motorists are not taken off-guard.