BJP's Yeddyurappa Takes Oath As Karnataka Chief Minister: 10 Points
The Congress approached the Supreme Court late at night and asked for the swearing-in to be stopped. The Congress urged Chief Justice of India Dipak Misra to cancel the governor's invitation to the BJP, calling the decision an "encounter of the Constitution".
In a rare move, the Chief Justice formed a three-judge bench to hear the last-minute petition that asked the judges to stop Mr. Yeddyurappa's swearing-in scheduled to be held at 9 am today.
Refusing to stop the swearing-in ceremony after the all-night hearing, the top court said: "As far as swearing-in is concerned, we are not restraining it, but we are making it subject to the outcome of the case." The hearing in the case will resume Friday morning at 10.30 pm.
The top court, however, has ordered the BJP to produce the letters submitted by BS Yeddyurappa to the governor to stake claim to form the government. "JDS and Congress outweigh the BJP. In a situation like this, on what basis has Mr. Yeddyurappa claimed he has the numbers…Arithmetic defies the way he was invited," the court observed.
Abhishek Manu Singhvi, arguing on behalf of the Congress and JDS, said the BJP could not claim to get a majority unless it admits it will encourage lawmakers to defect. To this, the Supreme Court said this would be covered by the anti-defection law, which bans lawmakers from switching parties.
To this, the center's top lawyer Mr. Venugopal suggested that this may not be the case. "Defection is one member crosses to other parties. Defection law won't apply before an elected member is sworn in as MLA," he said.
Responding to Mr. Venugopal's remark, a three-judge bench – comprising Justices AK Sikri, SA Bobde, and Ashok Bhushan – said it was "preposterous" to argue that before MLAs take the oath they were not amenable to anti-defection law. "It means the open invitation to horse-trading."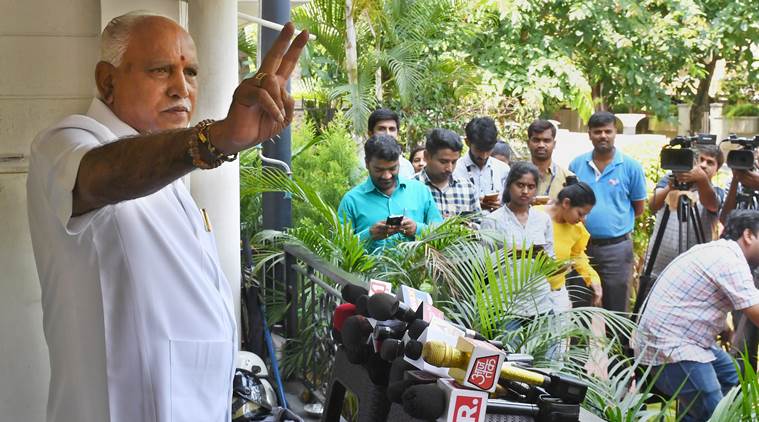 Mr. Venugopal and Mukul Rohatgi, the government's former top law officer who said he was representing two BJP legislators, had asked the Supreme Court to dismiss the Congress petition, insisting that the court could not stay the governor's decision.
Earlier in the day, the three parties alleged that there were efforts on to buy legislators. The BJP, the JD(S) and the Congress, all bussed their legislators away to resorts for safe-keeping.
The Congress and the JD-S, who formed a hurriedly stitched post-poll alliance after a hung assembly verdict to claim a majority of 116 members in the new assembly, met the Governor on Tuesday evening and submitted a letter of support with the signatures of 116 legislators, to the governor on Wednesday. The party has offered unconditional support to a government headed by JD(S) leader HD Kumaraswamy