The Best Cafes in Whitefield, Bangalore
THERPUP – A DOG CAFE
Therpup – A Dog Café is a farmhouse turned café and the perfect place for anyone who adores furry canines. You can munch on their reasonably priced snack items while enjoying the lovely garden view and have a great time playing and de-stressing with their dogs. Customers can bring their own dogs too. Their motto is 'cuddle, pet, eat, repeat'.
JOHNNY ROCKETS
Johnny Rockets is an international food chain that has become everyone's favorite burger joint in Whitefield seemingly overnight. The café offers burgers with beef and bacon, something other international chains like McDonald's and Burger King have avoided.
BLOOMSBURY'S BOUTIQUE CAFÉ AND ARTISAN BAKERY
Not too long ago Bloomsbury's Boutique Café and Artisan Bakery joined in the catalog of cafes in Whitefield, Bangalore, after debuting in Kochi, Kerala. It is a London themed café that offers cuisines from around the world – Indonesia, Mexico, Italy and more. It has become one of the best hangouts in Bangalore. Their shakes, masala paneer pops and pasta must not be missed.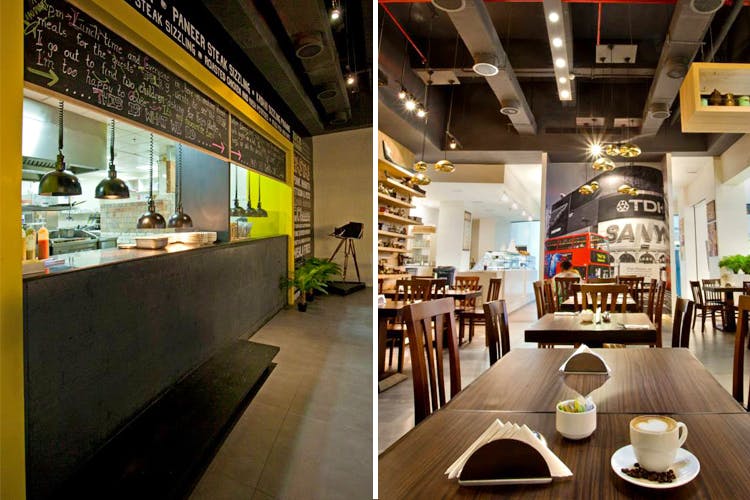 BOONDOCK BISTRO
Boondock Bistro is the best place to start your day or even end it. Their breakfast menu is impressive and they have live vocal artists performing in the evenings. Food is priced reasonably and the Italian spread is a safe bet. Boondock Bistro is among the best cafes in Whitefield and prettiest too. The large space area and pretty graffiti on walls have a way of charming customers.
THE ANTS CAFÉ & STORE
The Ants Café & Store is one of the best-hidden gems in Whitefield. It is a fashion boutique with a café at the front. Ants Café offers one of the best places for breakfast in Bangalore and their coffee is highly praised too. The tiny plot is dense with trees and shrubs that make it a lovely place to enjoy some shopping and food.
153 BIERE STREET
153 Biere Street is the umbrella brand name for three individual joints. 153 Biere Club offers their own freshly brewed beer and great snack food. Mustard and Cress is an organic dining place and Everything Stops for T is a bakery. Lined one after another, you can choose how you want to spend your time. The idea of three premises offering different experiences was inspired by quaint European street cafes.
PABLO'S GASTROBAR
Among one of the few dog-friendly cafes in Bangalore, Pablo's Gastrobar has a barn-like feel to the building invigorated with string lights and live open mic nights. This place attracts lots of pets and enthusiastic crowds of music and food lovers.
WINDMILLS CRAFTWORKS
Windmills Craftworks is one of the microbreweries in Bangalore and a really good one at that. Along with their home-brewed beers, you must try the pork sliders and kebabs. The rooftop area offers a stunning view of the city. The café creates a lovely mood with soft jazz playing in the background.