Three Drunk Men in a BMW Punched a Constable near Cubbon Park
Three drunk men in a BMW went berserk near Cubbon Park Metro station when they tried to run over a traffic policeman after they flagged down the car during a routine drunk and driving check in the early hours of Saturday. All the three, from Basaveshwaranagar, are in judicial custody.
The person, who was driving the vehicle, allegedly punched a constable on his face and also caught hold of him by the collar and drove the car for about 150 m, dragging the cop along before the vehicle came to a halt on the pavement. One among the accused managed to flee after stealing breathalyzers, but he was arrested later. The accused also broke two mobile phones of the traffic cops when they tried to take video of the incident.
"The injured constable is out of danger though he had to be rushed to Bowring Hospital after the incident. He was treated as an outpatient," said a senior police officer. The arrested have been identified as Srinivas Gowda, a contractor, and Chandru, a Vidhana Soudha employee, and Kiran, a businessman.
According to police, the three went to a pub on Vittal Mallya Road on Saturday night. When they were returning, the Cubbon Park traffic police, who were on their routine drink-and-drive drive, flagged down the BMW car they were traveling in. Srishyla Yellaghatte, one of the constables, signaled the driver to stop. Chandru was at the wheel, while the other two were sitting on the rear seat. When Chandru did not stop the car, other cops barricaded the road to prevent them from fleeing.
"Gowda and Kiran alighted from the car and started arguing with Yellaghatte and ASI Venkatesh. Asking Chandru to drive the car, Gowda and Kiran tried to push the barricades aside. The duo also allegedly snatched two mobile phones and broke it. When Chandru started to drive, Yellaghatte tried to steer the car to the left.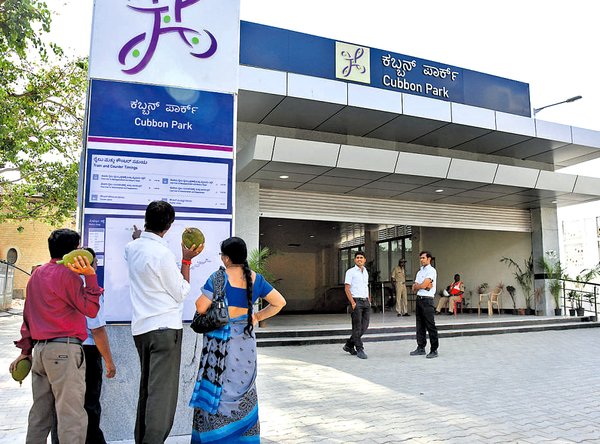 In the melee, he was dragged to nearly 150m. With great difficulty, the constable managed to guide the car to the left and the driver stopped it after it hit the pavement," said an officer.
Furious, Gowda then punched Yellaghatte in his face. Having been alerted, Hoysala patrolling police rushed to the spot and took Gowda and Chandru to custody. Police said Kiran fled the spot after snatching two alcometers and two mobile phones from the cops. Around 4.30 am, the police found Kiran sleeping in a car near the Queen Circle. Kiran was then taken to the police station. The accused were later taken for a medical check-up. Police claimed that the trio kept dropping names of various politicians after they were taken into custody. The three will remain in Parappana Agrahara prison for 14 days.
Source Bangalore Mirror