White topping: Traffic jam in South Bengaluru roads
Bengaluru: The Bruhut Mahanagara Palike (BBMP) started white-topping of key stretches of roads in south Bengaluru due to which major south Bengaluru roads are witnessing traffic jam.
Even though the BBMP is yet to complete the project in Kanakapura Road in Jayanagara and parts of Basavangudi it has started white-topping in 5 Kilometer stretch from Banashankari TTMC to Lalbagh West Gate along the RV Road-Jayanagar 4th Main section.
Once the BBMP got permission from the traffic police for white-topping, the BBMP has advised commuters to take alternative roads to avoid traffic congestion.
But motorists say there exists no alternate roads. Even if they take one through residential areas, at the end the road will be blocked due to the white-topping work.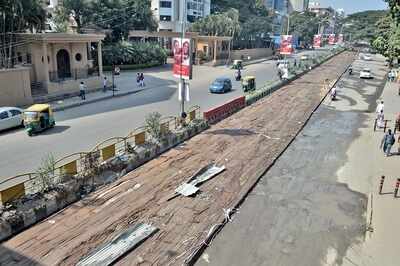 In Yediyur on Kanakapura Road the incomplete white-topping work has become a threat to motorists and pedestrians as the road exceeds the footpath's level.
People living along the white-topped roads are having a tough time commuting in these stretches. Motorists especially two-wheeler riders and pedestrians are equally affected. Two wheeler riders have to risk their lives while riding on these roads.
The work is moving at a very slow pace, say reports. The new concrete roads are a foot higher than the existing roads which makes riding impossible on these stretches.