A Weekend Guide To MG Road, Bengaluru
Weekends usually mean maxing out the time you spend on your interests or finding a great place to relax and recharge. For many Bangaloreans, MG Road hits a sweet spot. Here are our recommendations to make sure you get the most out of a weekend at MG Road.
Coffee: 

Matteo at Church Street
Matteo is a favorite among the people who often visit Church Street at MG Road. With elements of both a lounge and a street café, this place offers its own blend of coffee that has enchanted many, along with its freshly baked offerings. Known for their special cold coffee, the Shekarato, this place promises a heady brew of coffee and much more.
Shopping: Commercial Street
While it may be 1 kilometer away from the MG Road Metro station, at Commercial Street you can enjoy both street shopping and high-end boutique shops. You can shop for unique local and ethnic fashion accessories and footwear, as well as antiques, jewelry, toys, and (of course) apparel from local and foreign brands. Many shops actually provide an option for customizing the fit and design at a reasonable price, but only if bargained well. It is the right place for people who like to experiment with new designs and have a completely updated, vibrant wardrobe.
Beer

: Arbor Brewing Company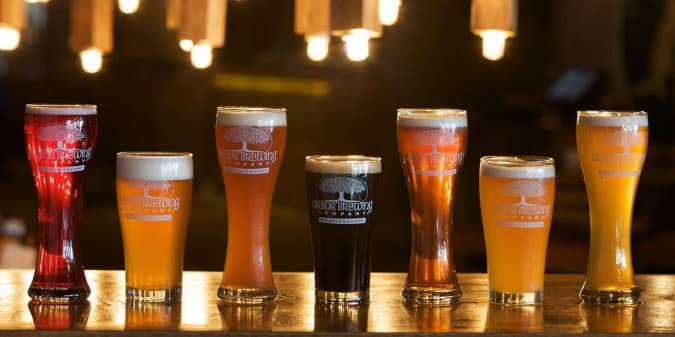 It is easy to find a good restaurant to hang out with friends in the pub capital of the country. But for connoisseurs of brewed beer, Bengaluru truly offers a lot. Located near Garuda Mall, Arbor Brewing is a city favorite for those who appreciate a good swig of beer. With more than six flavors of beer to select from, Arbor is a treat to the palate with a range spanning from mild to strong flavors. Though popular as a microbrewery, its unique cocktails and food make it even more attractive. But what truly differentiates it from most of the pubs in the city is the wonderful ambiance it offers. The only downside: it is advised to make a reservation before visiting.
Handlooms: 

Cauvery Handicrafts Emporium
In the mood for a souvenir? Standing at the junction of Brigade road and MG road, Cauvery Handicrafts Emporium is the one-stop destination for exquisite and traditional crafts of wood (sandalwood, rosewood etc.), bronze, metal wares, paintings, silk, and other indigenous materials. Here, you can even find cosmetics made from many natural products. Something to look out for are sandalwood products, which are available in various forms; for example, incense sticks with scent lasting for hours, perfumes, cosmetic products, and even sachets which in turn protect your clothes.
Buffet:

 Three-Quarters Chinese at Church Street

While at MG Road, there is no dearth of choices when it comes to food; whether it is continental or traditional Indian cuisine. But if you have an interest in food buffets, Three-Quarters Chinese at Church Street around MG Road is the place to be. Three Quarters offers an overwhelming variety of food in one single buffet purchase; spanning across continental and Indian cuisine for both vegetarian and non-vegetarians. A special mention to the fantastic desserts, which come highly recommended.
Books: 

Blossom at Church Street
While you may find street vendors at MG road selling bestsellers; if someone wants unimaginable variety in books, Blossom is made for you. Blossom has floors covered with books, with topics ranging from self-help, history, bestsellers (fiction and non-fiction), science, maths, philosophy, photography, kids' books, and even comics from national and international authors. This place is a paradise for people seeking the best deals for second-hand books.