Bangalore gets spanking new luxe hotel
Currently the tallest hotel tower in southern India, Conrad Bengaluru is not just another block of steel, glass and concrete. Shaped like a gentle semi-circle, the smooth curve of a building is designed by Hirsch Bedner Associates of Singapore and spans over 2.5 acres. Much like its Pune counterpart, the second outpost of the Conrad in India is a sheer delight to look at! And with all its 285 rooms across 24 floors overlooking the famed Ulsoor Lake, it offers amazing views as well.
But there's more than just gorgeous vistas at this 24-floor property. The lobby offers equally stunning visuals with its elaborate chandelier designed and created by Czech manufacturer, LASVIT. This central piece of finely cut crystals and glass art is a sure shot conversation starter. The lobby also leads to the hotel's other restaurants that plate flavours from around the world.
Arguably the best views of the famed lake and the Central Business Districts are from the poolside Mediterranean restaurant Tiamo. Surrounded by cabanas and open to the sky, this oasis could easily turn into a favourite spot for dinner or a quick drink after work. Indian Durbar has a menu that has attempted to represent all of India's states, not just the popular ones, with most ingredients sourced locally. Its speciality, however, is a celebration of cuisines from the country's royal kitchens. Mikusu, the hip Asian restaurant serves Thai and Chinese cuisine, with a slightly more generous leaning towards Japanese fare. Caraway Kitchen, the all-day multi-cuisine restaurant that also offers private dining areas, has live counters and its own pizza oven. And The Lobby Brew is the round-the-clock bar and coffee shop for when you want a pastry and double espresso or some tapas to go with a cocktail.
Guest rooms and suites, of course, are kitted out in signature Conrad style with an emphasis on smart tech—think intuitive motion-sensing technology that controls the air conditioning and lighting when movement is picked up via sensors. With their app, you can even check in en route to the hotel and choose specific room amenities, a plus for those stuck in peak hour city traffic. Spacious and bathed in gorgeous natural light courtesy the floor-to-ceiling windows, the rooms offer views of the lake that will make you want to get out of bed.
Ideal for the business traveller, the Conrad has an entire floor for meeting rooms of different sizes as well as a business centre. Hilton Honors loyalty program members have access to the executive lounge. But the highlight is the bubble-like executive boardroom with full-length windows, which allow natural light to pour in. Acoustically treated to block out the sound of traffic from the busy road outside, long meetings become better with an uninterrupted sight of treetops.
Once a business has been dealt with, a trip to the spa based on the 'adaptogenic' philosophy is a must. Don't miss the freshly dispensed mound of ice just outside the sauna meant to rub all over your body—it's supposed to be great for your skin —if you can brave the sudden shift from steaming hot to freezing cold.
Coming to the Conrad means a contemporary experience in one of the city's oldest neighbourhoods, a chance to get work done or relax and leave feeling like your best self. Perhaps this is what it means to come a full circle.
Doubles from Rs12,000. Website 
10 Foods You Can't Leave Bangalore Without Trying
Bangaloreans are fundamentally foodies. When you live in a town whose name literally translates to 'Town of Beans' you've got to love food! So when you're in the Garden City and feeling peckish, here's a list of the best local snacks.
Idli Dip Sambhar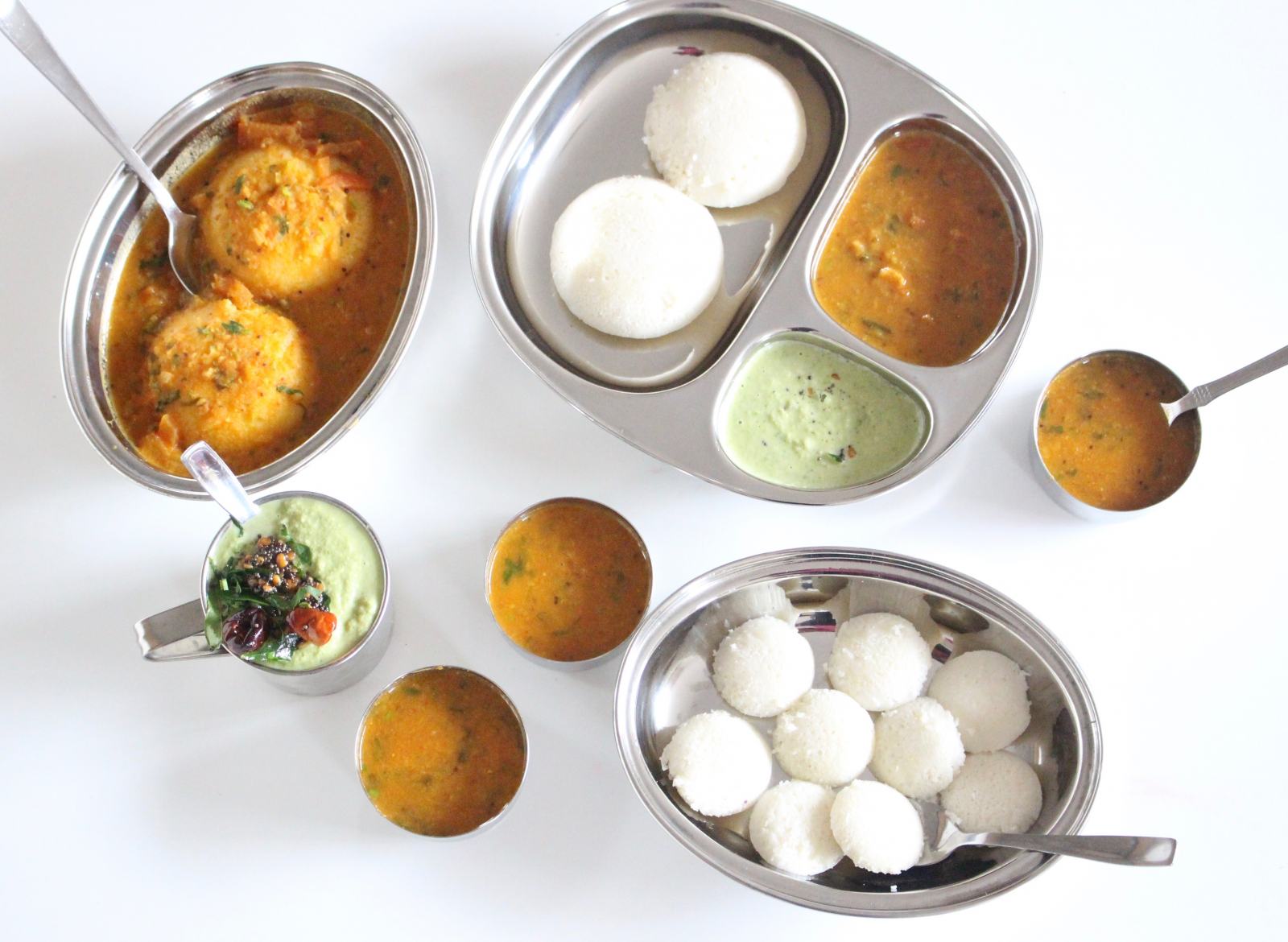 Items like idlis and dosas are far too obvious but one exception would be Idli Dip Sambhar, just for being so Bangalore. Two steaming hot, soft idlis (and sometimes a vada) dunked in a deep flying saucer-like bowl of piping hot, spicy-sweet and soulful sambhar, this may sound almost sadistic, but you haven't really enjoyed idlis until you've drowned them. Where to get it? Idli Dip Sambhar is available practically everywhere in Bangalore. One of the more 'sambharlicious' places in town is Amruth Vegetarian.
Bisi Bele Bhath
Bisi Bele Bhath literally translates to 'Hot Dal Rice' (the name alone should invoke in you a warmth akin to eating mom's homemade daal chawal). The dish features daal, rice and vegetables blended together like a khichdi, and served with boondi, namkeen or sometimes potato chips. It's soul food at its best. Burping is encouraged. Where to get it? Bisi Bele Bhath is a very common 'rice item', available at most local South Indian joints. If you have to eat it just once, one of the best places is Maiya's.
Gobi Manchurian
No, don't call your optician. You read that right. Gobi Manchurian is North India's eternal favorite Gobi-meets-China's legendary Manchurian-style of cuisine in a Hindi-Kannada-Chini-Bhai-Bhai combination that leaves you slightly confused, slightly amused and completely satisfied. These bite-sized snacks are perfectly greasy and spicy, with garlic and green chiles giving it its signature dragon-breath afterburn. Crunch away! Where to get it? Gobi Manchurian is under the 'Chinese' or 'Special Items' menu at most South Indian restaurants. For the crunchiest, spiciest and yummiest Gobi Manchurian, head to RS Shiv Sagar.
All-Day Breakfast
One advantage of living in a city with a tighter deadline than Cinderella's is that everybody is up for a good breakfast. And breakfast food has become so popular in Bangalore that there is no shame in eating fried eggs and toast for lunch or a nice breakfast platter at dinner. All-day breakfast joints are growing in popularity all over Bangalore, with the good old English breakfast becoming our second-favorite Brit after Mr. Bean. Where to get it? Bacon cravings can hit you at any time. Be sure to get your recommended dose of bacon, eggs, ham, sausages, and toast at the Hole In The Wall Cafe.
Bun Nippat
Bangalore is a city of innovators, so naturally, they have their own innovative signature chaat. Bun Nippat is a simple concept, a crisp, deep-fried masala nippat is placed in the warm confines of a fresh bun, along with chopped onions, grated cheese and a secret sauce that cannot be revealed to non-Bangaloreans! Pair this with a bottle of masala coke, and you will be transported to pure chatpata paradise. Where to get it? Bun Nippat stalls are found around college areas because the kids love it. The best bun nippat and masala coke combination are available at Chetty's Corner.
Momos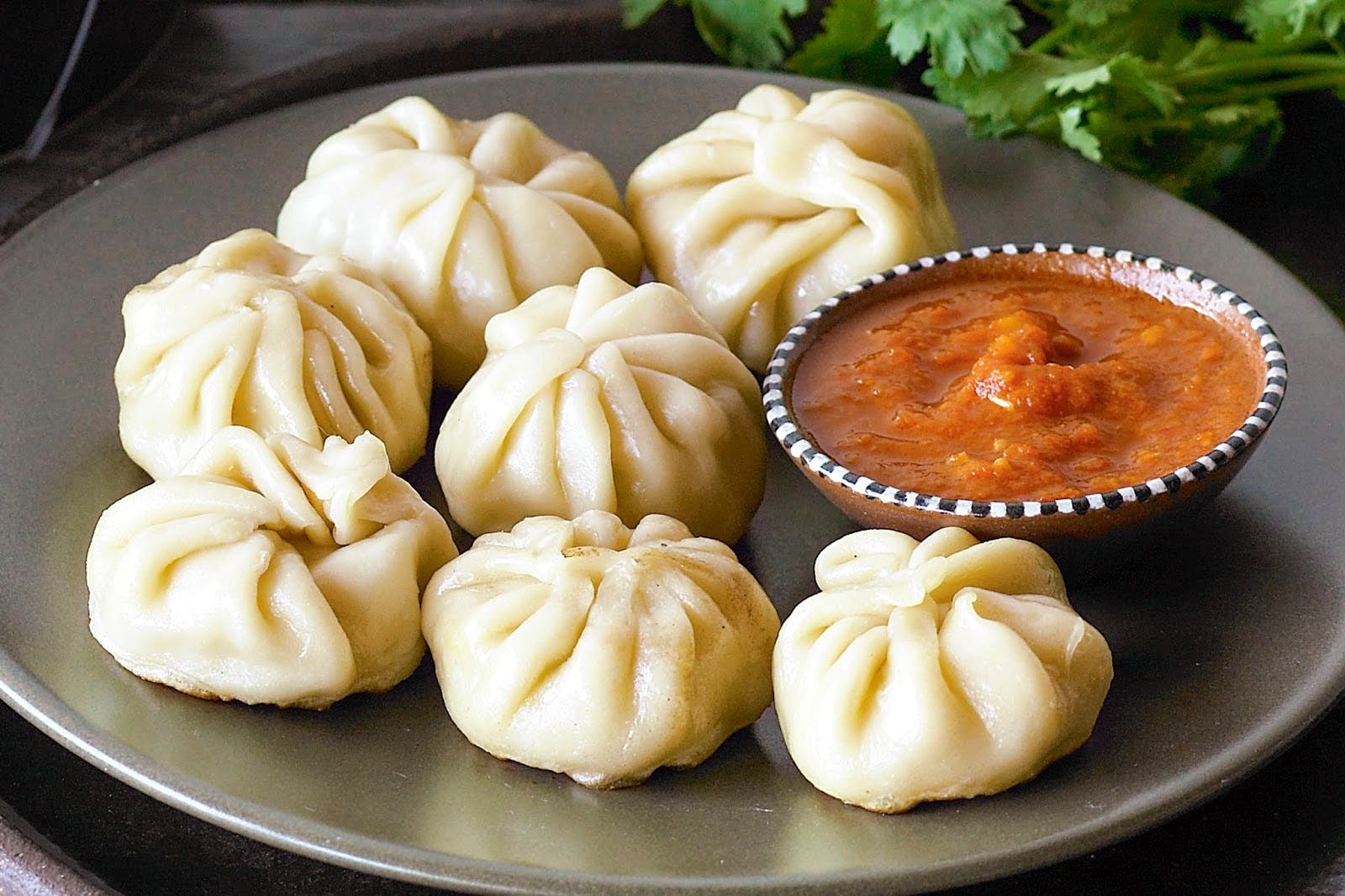 Bring your eyeballs back down from your craniums Delhiites, everyone knows your momos are the best thing since replica lightsabers. However, the Bangalore momos have really come into their own recently. Bangalore momos are smaller than those found in the north, the crust softer and the sauces are a lot more front-of-the-tongue spicy than the back. Little morsels of heaven! Where to get it? As tradition dictates, momos are usually found installs on the road. Certain stalls in Indiranagar, Koramangala, and Whitefield are very popular. One of the best non-roadside places for momos is Taste of Tibet.
Steaks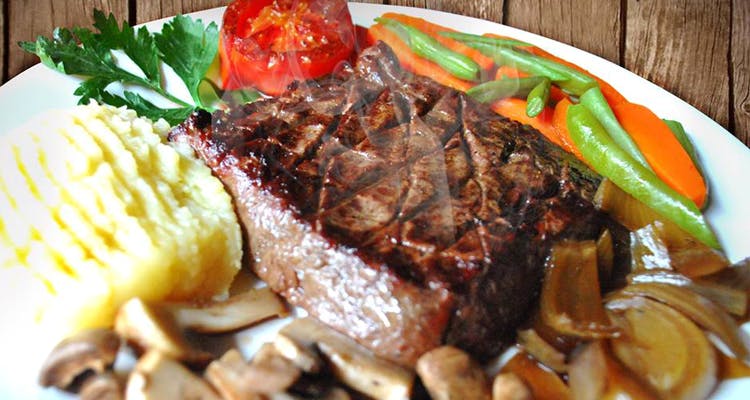 While their occurrence in most other major Indian cities is quite rare (most obvious pun ever), the Bangalore steakhouse business has been going from strength to strength. Karnataka state allows the slaughter of bulls above the age of 12, or the import and serving of cow beef. Most steakhouses are of top quality and serve the choicest cuts, but very few of them get their rare and medium rare right. But then again, most steak lovers here don't care. Where to get it? Most of the central areas of Bangalore have excellent steakhouses, most of them serving alcohol to make for a complete steak meal. The one place that very slightly edges out all the others is Millers 46.
Craft Burgers
It just gets better and better for meat lovers in Bangalore, thanks to the booming craft burger scene in the city. Miles ahead of fast-food burgers in every possible way (other than affordability), these handcrafted burgers (patties are made of beef ground in the kitchens) are being vociferously demanded. The variety of styles, ingredients, and tastes available are amazing, and there's no way that just one burger can sum up your experience. Too bad one such burger is enough to fill most stomachs. Where to get it? There are too many extraordinary burger joints to try out, but winning it in terms of overall restaurant concept is Smally's Resto Cafe.
Gourmet Pizzas
When Bangaloreans want a slice of heaven (aka pizza), a chain joint like Domino's is the absolute last resort. Bangalore is now home to several delicious gourmet pizza restaurants that cater to diners' need for posh and cheap, simultaneously. From the wood-fired goodness of Toit to Backster's uniquely desi-classy Indian-topping pizzas, the average pizza lover has plenty to choose from and plenty to drool over. Where to get it? The aforementioned Toit is not just famous for its smokey-flavored pies. This impossible-to-get-a-table place is also renowned for its craft beer microbrewery. Check out Toit Brewpub.
Cold Stone Ice Cream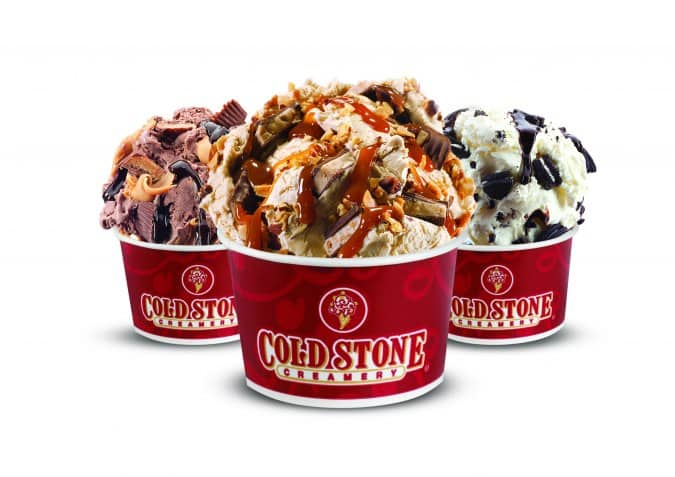 And let's not forget dessert. The biggest sweet-tooth cravings in recent times are for cold stone ice creams. When you order, you are encouraged to watch as the ice cream craftsman places your ice cream on a slab of cold stone and pounds, smashes and mixes away until it turns into a smooth-textured and beautifully mixed ice cream sundae, served in a waffle bowl. The only problem: you can't talk with your mouth full. Where to get it? Stoner is a chain that has brought this innovative concept to Bangalore, and it has really caught on! Find it at Stoner.
10 Things to do this Valentine's Day in Bengaluru
1. Soar through the Clouds
If you've been struck by Cupid and feel like love gives you wings, here is your chance to really soar above the city with your special someone. Enjoy the thrill of flying a light aircraft and get treated to breathtaking views of Bengaluru's beautiful landscape, skyline, rivers, hills, and a limitless horizon. This is one Valentine's Day experience that the two of you will cherish forever. This activity is made even more exciting, Cleartrip even gives you the chance to co-pilot the aircraft, under the guidance and supervision of experienced pilots.
2. Embark on a High-Altitude Adventure
Bengaluru is a haven for adventure sports enthusiasts, so if you are one of those couples who live for the thrill, Cleartrip has just the right activity for you to enjoy this Valentine's Day. There is scarcely an experience more exhilarating than flying with unobstructed views of the earth and the endless blue skies; what better way to enjoy this than by parasailing! This is the ultimate Valentine's Day activity for adrenaline-junkie couples, as you soar through the sky with a parachute. Parasailing activities offered by Cleartrip are conducted under the close watch of skilled IAF officers who will ensure that you follow the necessary safety procedures.
3. Escape on a Romantic Camping Excursion
If you have ever fantasized about living in the midst of nature with the love of your life, you simply have to set out on a camping excursion this Valentine's Day. If the idea of exploring beautiful waterfalls, lush green valleys, rolling hills, and mesmerizing peaks sounds romantic to you, you will not be disappointed. Cleartrip Activities offers camping trips into the heart of the wilderness, allowing you to explore and enjoy all of Mother Nature's blessings. Use Cleartrip's mobile app to sign up for a camping activity, choosing from a number of exquisite locations, including Jog Falls, Coorg, Srimangala, Bheemeshwari, and many more. While camping in the great outdoors, away from the distractions of technology, you will rediscover yourself, your love, and the true meaning of Valentine's Day.
4. Enjoy Some Bird-Watching
If you are a couple who enjoys nature and delights in spotting rare birds, you should consider spending this Valentine's Day at Ranganathittu Bird Sanctuary. Spread over 40 acres, this is one of the largest bird sanctuaries in the state. In addition to the beauty of the landscape, you will be treated to the sight of some colorful and exotic birds like the painted stork, black-headed ibis, Stork-billed Kingfisher, and many more. Cleartrip offers bird-watching activities at the park, so prepare to get dazzled with our feathered friends this Valentine's Day.
5. Cycle through Bengaluru's Wooded Trails
Cycling together can be extremely fulfilling and thrilling, whether you are zipping through the countryside or coasting along slowly. Cycling can be a romantic and shared activity, whether you are into adventure and competition or prefer a more leisurely experience. Set your own pace and enjoy the scenic landscape with lush farmlands and plantations, sparse traffic, dense vegetation, lakes, and hills, as you pedal through Bengaluru. There are various cycling trails and routes suited to cyclists with different levels of expertise and expectations. Cleartrip offers a whole range of cycling activities both along strenuous routes with steep inclines as well as more leisurely trails.
6. Get Competitive with Gaming Activities
Gaming can be a whole lot of fun and it's a great way to celebrate Valentine's Day. Games like laser tag and paintball are perfect for couples who prefer something more physical, while board games like Monopoly and Snakes & Ladders are perfect for those looking for something more laidback. If you would like some healthy competition to spice up your romance, you can battle it out against each other, or you can even team up to take on other opponents. This can be a novel bonding experience and its always great fun! From games like paintball, badminton, and water polo, to PS3 gaming, Scrabble, and Battleship, Cleartrip offers opportunities to participate in games of every kind. Sign up today, using the Cleartrip mobile app and make this your most enjoyable Valentine's Day ever!
7. Get Groovy with Jazz Dancing
The perfect music to set the mood, jazz has untamed sensual energy that translates perfectly into the various dance forms that have sprung up around it. Jazz dancing styles are extremely popular because of their expressive gestures, deft movements, intricate steps, and exceptional choreography that lends it great entertainment value. If you and your love really want to set the dance floor alight, you should sign up for a jazz dance class this Valentine's Day. Download Cleartrip's mobile app and sign up for their funky jazz dance class if you want to master those fancy moves.
8. Rejuvenate with a Massage
Whether you had a long day at work, we're out exploring, or were slouched in front of the television, there's nothing more satisfying than a good massage at the end of the day. If the idea of scented candles, soft linens, heated tables, relaxing music, healing essential oils, and steamed towels sounds enticing to you, make it a point to explore Cleartrip's range of massage activities, including back, shoulder, aromatherapy, Swedish, deep-tissue, and Ayurvedic massages. A relaxing massage is one of the best Valentine's Day gifts, so why not share in the experience and treat yourselves to a couples massage this year?
9. Head off to a Romantic Getaway
For city-dwelling couples, nothing is more romantic than an escape to the idyllic environs of the countryside, whether it's at a hillside resort, a lake cabin, or a campsite. From moonlit walks to huddling around a campfire, with the stars shining brightly up above, you cannot help but feel like the universe colluded to bring the two of you together! Cleartrip offers plenty of such romantic getaways for couples looking to escape from the mundane. Enjoy excursions to the countryside, nature tours, and stays at locations like Shivanasamudra Falls and Bandipur, among others.
10. Cruise through the City on a Motorcycle
Indians are passionate about their two-wheelers, and why wouldn't they be? If you are one of those couples who love the thrill of riding a bike, with the wind in your hair then cruising through the countryside will be the perfect way to celebrate this Valentine's Day. Riding a bike is just so much more intimate than driving a car, and there is an undeniable feeling of becoming one with your machine. This year, share the thrill and joy of biking with the one you love. With Bengaluru's beautiful roads that lead through the beautiful rural landscape, you couldn't pick a better place for this Valentine's Day activity. Cleartrip offers several bike services and rentals aboard Harley Davidsons, Royal Enfields, and more.
After Midnight: The best late-night eats in Bengaluru
Imperial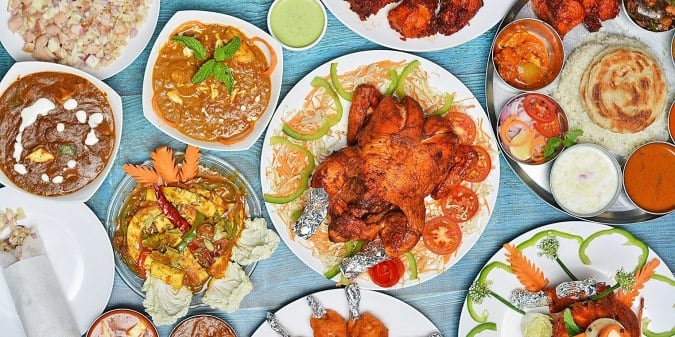 Imperial, or Impy as it is known locally, shuts usually close to 1 am and their economical price point makes them an attractive proposition if you are on a tight budget. The service is quick but doesn't go to Impy expecting a fancy ambiance. Their piping hot ghee rice and deeply fried chicken kebab combo is a favorite among the late-night crowd. Other popular eats include coin parathas, mutton pepper fry, bheja fry, the spicy chicken varuval (fry) and Malabar chicken. Impy loyalists swear the non-vegetarian food is better than at Empire, but we'll let your taste buds be the judge of that.
Rasta Cafe
Located on the Bangalore-Mysore highway, and nestled among the foothills of the Ramnagaram hills, it is probably the only 24-hour open cafe near Bengaluru. Close to three acres of space, adventure games, foosball and pool tables, gaming stations, live sport on large screen TVs and a projector, Rasta has a lot more going on besides just food. There are separate hookah and non-hookah seating areas and often, a long waiting time, especially on weekends when service can get frustratingly slow. The cafe is about a 45-minute drive from Bengaluru – keep your eyes peeled as it is difficult to spot if it's foggy or if the road signages are not lit. Like its name, the cafe's theme draws from the Rastafarian culture – be it the wood decor, color scheme, the graffiti on the walls or the music that plays – everything has a laid-back appeal to it. The menu is quite extensive with a Continental and Mexican slant to it. The most popular items are nachos, the English breakfast, the Double Decker Burger, pizzas and beverages like the Snicker Shake.
Russell Market
There are many small restaurants around the Russell Market area in Shivaji Nagar, which are open until the wee hours of the morning, where you can get a decent meal quite cheap. Some of the popular restaurants include Royal, known for its mutton samosa, chicken lollipop, and chicken roll, Hilal for its mutton seekh kebabs and tandoori chicken and Grand Hamza for its bheja fry, mutton biryani, and faham, which is tandoori chicken. There's also Savera Tea Centre with its ever-popular Sulaimani chai, Kachchi chai, and samosa. But be warned, hygiene isn't high on the priority list, so if you are a bit squeamish you might want to give these restaurants a miss.
Thindi beedi 
While most of the late night places are a non-vegetarian's delight, the thindi beedi,  Kannada for "food street" in VV Puram is a vegetarian's paradise. It's a narrow stretch, crammed with about 15 poky shops that start opening their shutters around 5 pm or so. Gas fires are lit, pots and pans are taken out, oil heated, vegetables chopped, spices are readied and pushcarts start groaning under the weight of both traditional Kannadiga snacks and other delicacies from around the country.
By about 8 pm, the street is buzzing and you can usually find hot food till close to midnight. The Congress kadlekai (peanut) bun at VB Bakery, akki rotis, (rice flour rotis) thatte idlis (plate-sized idles), mosaru kodbale (deep fried rice flour and curd rings), bajjis and bondas are all must-haves and if you are in the mood for dessert, don't forget to try the gulkand ice cream, or the traditional Karnataka sweets like holige (jaggery/coconut/dal stuffed chapatis) and chirroti.
Empire Hotel
It's easily one of Bengaluru's most well-known chain of restaurants and extremely popular with the late show moviegoers, hungry clubbers or anyone looking for some good meat at an ungodly hour. If you love meat then the sight of rows and rows of skewers of kababs, tandoori chicken and mutton raans, and the sound of sizzling meats take you to heaven named Empire. The restaurant chain is known for its mutton and chicken biryani, as it is for ghee rice, butter chicken, the Empire special chicken kababs, coin parathas, mutton keema dosa, and dosa chicken. The quality varies from branch to branch and their service can be a bit slow, but they are usually open until 1 or even 2 am on weekdays. With more than 15 restaurants in the city, Empire is one of your best bets for late night eats.