Central Business District set to play it smart when it comes to parking
Sometimes, even a prayer can't get you a parking spot on Church Street. Or in any of the roads in Central Business District (CBD) in Bengaluru. But that may soon change. By the end of February, the Bruhat Bengaluru Mahanagara Palike will introduce the first phase of the smart parking system on 12 roads in CBD. The project is being implemented on a Public-Private Partnership (PPP) model by the BBMP and Central Parking System (CPS). It has already kic'ked off with a pilot run on Kasturba Road. The pilot run which began on December 14, 2019 has received great response, say BBMP officials.
The trial run includes slots for 50 vehicles. A CPS spokesperson said, on an average, about 160 vehicles are parked on Kasturba Road every day. Smart parking meters will be installed on 85 roads in four phases. The total cost of the project is Rs 72 crore. Basavaraj Kabade, projects, BBMP, said, "We are taking feedback from the public about the trial run at Kasturba Road. The response has been good. As the white topping and TenderSURE works on other roads are going on, there will be some delay in the other phases."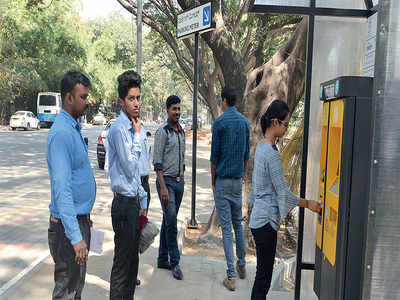 Citizens can use the Namma Bengaluru Parking app to find parking slots available and pay for it or they can approach a parking meter installed on the road and pay for their slot. The parking fee has been set at Rs 30 for every hour. When using the meter, car owners can enter the bay number where they've parked their car, the number of hours they would like to book the slot for, and pay via cash, debit or credit card or e-wallets. Vehicle owners can also extend the time slot after they have parked their vehicle. Poornima Sathyanarayanan, Director New Initiative, said, "They can book their parking bay either through the app or through the meter. Payments can be done through the app as well. A buffer time of five minutes is also provided."
A command center at the area will monitor the parking activity. It will record the number of vehicles parked, available slots and the number of owners who have paid or not paid for the parking. Poornima added that in case the owner doesn't pay the parking fee, the vehicle will be clamped. "There are six CCTV cameras installed for the trial run at Kasturba Road. It will be monitored."

N Sathyanarayanan, MD, Central Parking System, said phase one will be completed by end of February. "We are in discussions with the BBMP and are yet to get some permissions and clearances. The smart parking system is being installed at roads which are wide and mostly one-way so that there is not much traffic congestion on the road." In phase one, 12 roads will have around 500 slots for two-wheelers and four-wheelers.