Swallowing lakes: Prestige, Bagmane, Sobha and 62 others named
The report states that 10,785 acres or around 18% of lake area has been encroached in 1,547 lakes in the two districts and also names over 75 companies in a list of offenders. This includes some of Bengaluru biggest realtors like Prestige Developers, Sobha Limited and Bagmane Group.
Bengaluru: After an extensive report by the committee headed by the Assembly Speaker KB Koliwad, presented in the Karnataka Legislative Assembly that revealed that over 10,000 acres of lake area encroachment in and around Bengaluru, many real estate firms are under scanner.
The report states that 10,785 acres or around 18% of lake area has been encroached in 1,547 lakes in the two districts and also names over 75 companies in a list of offenders. This includes some of Bengaluru biggest realtors like Prestige Developers, Sobha Limited and Bagmane Group.
Revenue Minister Kagodu Thimmappa disclosed in the Legislative Assembly that the district administration in Bengaluru was yet to file suo motu cases against encroachers. The Minister also said that there are provisions for filing criminal cases against encroachers of lakes.
The Bengaluru Development Authority is the biggest offender, here are some of the other big encroachers.
Nandi Infrastructure Corridor Enterprises (NICE) 7 acres 6 guntas, Kengeri. The NICE group had earlier planned to construct the first of seven townships near Kengeri under the Bangalore-Mysore Infrastructure Corridor Project (BMICP).
Prestige Developers – 33 acres 18 guntas, Varthur. Prestige Developers is constructing a lakeside residential apartment in Varthur
Oasis Apartments – 15 acres 38 guntas, Varthur. Oasis is constructing a residential apartment in Monnekolala
DS Max Apartment – 105 acres 18 guntas, Bidarahalli. DS Max Apartments is constructing a housing project in Angalapura near Hennur Main Road.
Sobha Apartments – 18 acres 6 guntas, Begur. Sobha is constructing a residential apartment near Electronic City main road
Government Ashraya Scheme – 79 acres 32 guntas, Begur, Bengaluru South Taluk. The Ashraya Scheme provides temporary homes for children before safe houses are found for adoption.
Bagmane Group – 14 acres 24 guntas, KR Puram. Bagmane Group manages the Bagmane Tech Park in CV Raman Nagar
ST Bed Layout – 49 acres 11 guntas, Srinivagilu, Bengaluru South Taluk. ST Bed Layout in Srinivagilu is a housing colony
Enzyme Tech Park – 136 acres 30 guntas, Begur, Bengaluru South Taluk. Enzyme Tech Park in Koramangala is home to a chain of business operations
Adarsh Developers – 42 acres 23 guntas, Varthur. Adarsh Developers have constructed a residential apartment complex in Doddakanneli
Chandrika Soap Factory – 57 acres 26 guntas, Kacharakanhalli, Bengaluru North Taluk
The Chandrika Soap Factory in Kacharakanhalli has already been in the news for contributing to turning the Kacharakanahalli  lake into a landfill
Advaith Apartments – 124 acres 25 guntas, Begur, Bengaluru South Taluk. Advaith Apartments constructed a residential apartment in New Tippasandra
Brigade Developers – 13 acres 11 guntas, Bidarahalli. Brigade Developers constructed a residential apartment complex called Brigade Golden Triangle
Apartment Complex and Oberoi Company – 99 acres 33 guntas Kodigehalli, Bengaluru North Additional Taluk. Oberoi Company constructed a residential apartment complex in Kodigehalli
Gordon View Apartment – 32 acres 16 guntas, KR Puram
A residential apartment in KR Puram
Ashwini Enterprises – 30 acres 37 guntas, Binnamangala . Ashwini Enterprises manufactures fluid accessories in Binnamangala
The report suggests demolition or takeover of properties like apartments that were built by private companies and allotting the properties to the same companies on a lease agreement.
Source: TNM
From highs of ₹200, onion prices cra'sh to the ₹35-40 range
After reaching highs of over ₹200 per kg, the price of onions is now seeing a steep cr'ash with the new crop harvested over the last two weeks flooding the market. This has resulted in a glut of onions, say traders.
A kilo of onions, even of the best quality, is now trading at the ₹35 — ₹40 levels in the wholesale market, leaving many farmers who hoped to cash in on the shortage unhappy. They are retailing around ₹40 — ₹50.
Traders and officials, going by the ground report on onion crop patterns and expected arrivals in the market, predict that the glut will only increase. "The prices will fall below ₹20 by the month-end and may even fall below ₹10 by February-end," predicted Ravi Kumar of the Bangalore Onions and Potatoes Traders' Association.
This has left the farmers worried. At present, onions from Vijayapura and Chitradurga districts and the Nasik region of Maharashtra are flo'oding the wholesale markets in the State.
"The earlier crop suffered massive da'mage owing to heavy rains. Expecting high prices, farmers — even those who used to grow maize for a second crop — started growing onions," Mr. Kumar explained. More onions are expected to come from Punjab and Madhya Pradesh by February, even as supply from within Karnataka is also expected to go up. This will further lead to a cra'sh in prices, traders predict.
"Though the price of onions shot up recently, we did not make much profit, as the yield was very low. Onions had turned wet and were decomposing in the fields itself. What we could sell was very low. But given the prices were started growing them again, only to see the prices cra'shing in a free fall. It will be tough to bear these losses," said Basavaraj, a farmer from Vijayapura.
However, G. Srinivasan, Director, HOPCOMS, remains optimistic and says that the demand for onions will also increase especially as many households had limited or even stopped purchasing the staple ingredient for a while. "There will be a stabilization of prices, but may not cr'ash," he said
Coconut farmers sustain losses
Coconut farmers, too, are bearing the brunt of the price cr'ash. The price of a quintal of copra (dry coconut) that was in the range of ₹17,000-₹18,000, a few months ago, was trading at ₹11,500 on Saturday at Tiptur APMC, the prime coconut market in the State. The prices of coconuts have also seen a dip, from over ₹20 per nut to ₹17 per nut over the last few days. However, they are still being sold in the range of ₹25 and ₹30 in the retail market.
Devraj, a coconut farmer from Tiptur, said the present copra and coconut prices will not fetch them the cultivation cost.
"The input costs – diesel, labor, and fertilizers – have gone up. The cost of copra should at least be around ₹15,000 per quintal if farmers have to recover the cultivation cost. Presently, we are reeling under losses," he added.
Central Business District set to play it smart when it comes to parking
Sometimes, even a prayer can't get you a parking spot on Church Street. Or in any of the roads in Central Business District (CBD) in Bengaluru. But that may soon change. By the end of February, the Bruhat Bengaluru Mahanagara Palike will introduce the first phase of the smart parking system on 12 roads in CBD. The project is being implemented on a Public-Private Partnership (PPP) model by the BBMP and Central Parking System (CPS). It has already kic'ked off with a pilot run on Kasturba Road. The pilot run which began on December 14, 2019 has received great response, say BBMP officials.
The trial run includes slots for 50 vehicles. A CPS spokesperson said, on an average, about 160 vehicles are parked on Kasturba Road every day. Smart parking meters will be installed on 85 roads in four phases. The total cost of the project is Rs 72 crore. Basavaraj Kabade, projects, BBMP, said, "We are taking feedback from the public about the trial run at Kasturba Road. The response has been good. As the white topping and TenderSURE works on other roads are going on, there will be some delay in the other phases."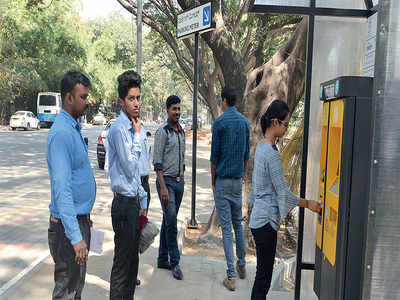 Citizens can use the Namma Bengaluru Parking app to find parking slots available and pay for it or they can approach a parking meter installed on the road and pay for their slot. The parking fee has been set at Rs 30 for every hour. When using the meter, car owners can enter the bay number where they've parked their car, the number of hours they would like to book the slot for, and pay via cash, debit or credit card or e-wallets. Vehicle owners can also extend the time slot after they have parked their vehicle. Poornima Sathyanarayanan, Director New Initiative, said, "They can book their parking bay either through the app or through the meter. Payments can be done through the app as well. A buffer time of five minutes is also provided."
A command center at the area will monitor the parking activity. It will record the number of vehicles parked, available slots and the number of owners who have paid or not paid for the parking. Poornima added that in case the owner doesn't pay the parking fee, the vehicle will be clamped. "There are six CCTV cameras installed for the trial run at Kasturba Road. It will be monitored."

N Sathyanarayanan, MD, Central Parking System, said phase one will be completed by end of February. "We are in discussions with the BBMP and are yet to get some permissions and clearances. The smart parking system is being installed at roads which are wide and mostly one-way so that there is not much traffic congestion on the road." In phase one, 12 roads will have around 500 slots for two-wheelers and four-wheelers.
Three lanes may be added to Hebbal flyover
BENGALURU:  The Bangalore Development Authority has come up with a new proposal to ease the city's one of the most notorious traffic bottlenecks – Hebbal Flyover. Addition of three new lanes and underpass figures among the drastic changes the Authority has suggested. It has submitted its proposal to both the Bangalore Metro Rail Corporation Limited (BMRCL) and the RITES Limited, an engineering consultancy firm specialized in major infrastructure projects.
These agencies along with the Karnataka Road Development Corporation Limited have been entrusted with the task of coming up with a feasible project to decongest the flyover. BMRCL too has been roped in since its major infrastructure project the Silk Board-Airport line will pass above the flyover. Highly placed BDA sources told The New Indian Express that a grade separator proposal was submitted on January 2 and some major changes have been proposed for the first time.
"Three unidirectional lanes have been proposed to be constructed from Bengaluru city side towards the airport, crossing the Hebbal junction and an underpass from the Tumukuru end, he explained. The flyover constructed in 2003 by BDA witnesses massive traffic gridlock in the morning and evening hours. Currently, there are five lanes connecting the airport and the city via the flyover — three of them from the city towards the airport and two in the reverse direction.
"BDA had earlier proposed two more lanes from the airport to the city and some work had also begun, but stopped later. If this proposal to construct three more lanes is accepted, then there will be 10 lanes in total, five each in either direction and congestion in the lanes will be done away with," a top official said.
Another major proposal is to dismantle the existing route (ramp) from K R Puram side towards Bengaluru city. "Instead, a new unidirectional flyover will be constructed from K R Puram. It will be done at level two around the existing one and it will be done in such a way that it will merge with another new flyover from the airport towards Bengaluru for which construction has begun already," he added. Metro rail is proposed on level three, he said.
An underpass has also been proposed from the Tumukuru side towards the K R Puram side. "It will have an arm that will merge with the approach road of the ramp of a flyover heading towards Bengaluru," another official said. KRDCL will also be constructing an elevated corridor passing through the junction.